Specializing in SRL Stud Rails for reinforcing of concrete slabs, our product is ICC approved and we follow a stringent quality control program that is audited quarterly by QAI (Quality Auditing Institute). We are a CWB (Canadian Welding Bureau) certified shop that is capable of servicing your project needs. Our Stud Rails are manufactured to the highest industry standard using PSR (punch shear resistance) studs. We also do header bars, imbeds and miscellaneous metal fabrication.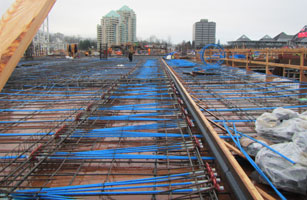 SRL Industries Ltd. is able to create the following products to meet your needs.
SRL Stud Rails
Header Bars
Imbeds
Metal Fabrication (CWB Certification)
and we are a Distributor for the following products:
Simplified reinforcement and faster installation around columns and openings
Ductile behavior in the slab and thinner slabs when designed for shear controlled loading
Easier installation of flexible reinforcement since there is no interference
Ductile seismic behavior
Possible elimination of column capitals, drop panels and stirrups
Overall lower cost and faster installation
Please contact us for more details, or request a quote for a specific project.
604-575-3855